Library Board
Board Members
Barry Stagg
Dale Blevins
Donna Collis
Luther Stroup
Nancy Burleson
Teleia Tollison
Tiffany English
Wes Foy
Planning & Zoning Board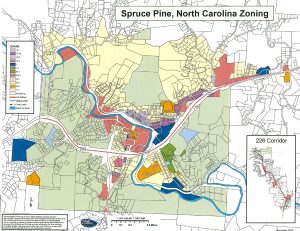 Board Members
Charles Boone
Gary Moore
Kay Goins
Ken Borders
Tommy Westhall
The members of the Town of Spruce Pine's Planning and Zoning Board shall exercise their statutory authority as granted by the General Statutes of North Carolina and by the Town of Spruce Pine Code of Ordinances and Land Development Ordinance, in an objective and timely manner to provide advice to the Town Council related to long-range planning, zoning, and related development matters.
The Planning and Zoning Board is an advisory body to the Town Council and deals with land use, zoning and development issues.
Zoning Board of Adjustment
Board Members
Phil Mckinney
Ricky Mckinney
Benny Sparks
John Pendley
The Zoning Board of Adjustment is a five-member board of citizens. Members are appointed by the City Council, and deliberate and decide petitions for variance, special use permits, appeals and interpretations of the Zoning Administrator. These decisions involve two key elements—the findings of fact regarding the specific proposal and the exercise of judgment and discretion in applying predetermined policies to the situation. By Ordinance adoption, the Town Council has charged the Board of Adjustment with the following duties:
Decide appeals from any order, decision, requirement, or interpretation made by the Zoning Administrator.
Hold public hearing and decide petitions for special use permits, general variances, and applications for variances from watershed district overlay.
Decide issues involving interpretations of the zoning map, including disputed district boundary lines and lot lines.
Advise Council on need for zoning ordinance amendments; and
Any other matter the Board is required to act upon by any other Town ordinance.